For Singaporeans looking to renovate their HDB apartments, the process can seem daunting. There are many steps to take, and you want to ensure everything is done correctly.
Did you know that you need a HDB renovation permit before you start renovating? Homeowners in Singapore have to apply for a permit from HDB before starting on renovations. 
In this blog post, we'll go over how to apply for an HDB renovation permit and where you can check the status of your application. Let's get started!
What Is A HDB Renovation Permit?
An HDB renovation permit is a document that allows you to renovate your HDB flat legally. It is required by the Housing & Development Board (HDB) in Singapore and must be obtained before any work on your flat can begin. The permit is valid for three months from the date of issue (new BTO flats) or one month (resale flats).
There are a few things to remember when applying for a renovation permit:
You must submit a detailed plan of your proposed renovations, including drawings and specifications.
You must obtain approval from your neighbours, as well as from the HDB itself.
You must have sufficient funds in place to cover the cost of your renovations.
If all of these requirements are met, then you should be able to obtain an HDB renovation permit without any problems.
When Is A HDB Renovation Permit Required?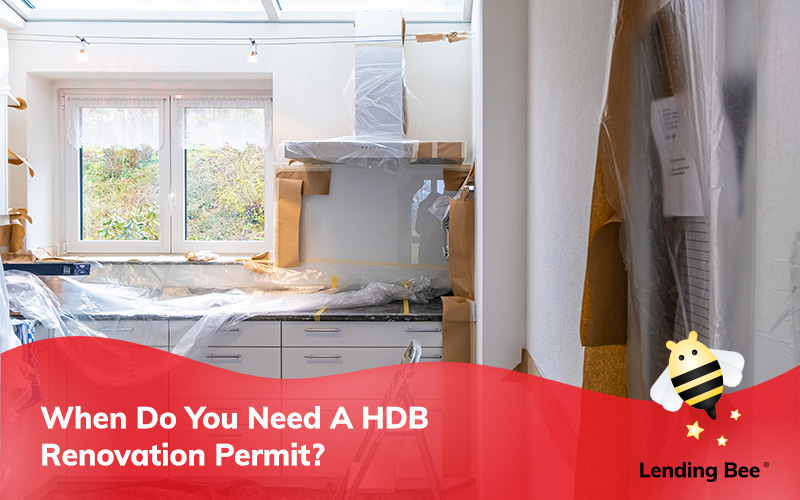 After reviewing all this info, the question in your mind is, "When must I apply for HDB renovation permit?" The last thing you want is to do illegal renovation work in your apartment.
So, here are the situations when HDB renovation permits are required:
1. Replacing Floors
We often need to renovate the bathroom as it is the most highly utilized.
Do you want new tiles in your kitchen or bathroom? That means removing your old ones first. And that requires an HDB permit.
But that permit doesn't give you a free hand for all changes:
The new floor finish must be 5 cm at the most.
The distance between your window and the floor must be at least 1 metre.
2. Hacking Walls
You can't just hack any wall you want. Wall hacking requires an HDB permit because:
You can't hack structural or load-bearing walls.
Some non-structural walls may be off-limits, too.
The demolition must start from the ceiling and not the floor.
The new finish for statement walls must be less than 2.5 cm.
3. Relocating Doors
Do you want a larger living room and a smaller kitchen? Perhaps your kids have grown, and you want to separate their twin bedroom into two rooms?
You need a permit for that.
Here are two reasons why:
You can install doors in reinforced concrete walls in your HDB flat.
You can't demolish or cut through load-bearing walls/columns.
4. Changing Staircases
So you've decided that you want to spruce up your executive maisonette with some new railings, eh? Well, it's not as simple as just heading to your local hardware store and picking out the ones you like.
In fact, there are quite a few steps involved in changing railings in an HDB-owned property.
First, you'll need to get both HDB and BCA approval. Then, you'll need to hire a professional engineer to create a design that meets BCA standards. Once your plan is approved, you can finally submit it to HDB for the HDB renovation permit.
5. Replacing Windows
Getting new windows in your HDB flat isn't easy either. You'll have to follow a slew of guidelines and rules even after the HDB grants you your permit.
Here's just a sample of what we're dealing with:
The new windows have to resemble the HDB windows closely.
Casement windows must be 50-70 cm wide.
Sliding windows must be 50-120 cm wide.
Service yards and balconies must comply with another set of rules.
The HDB must approve your grille designs.
The windows should stick to the apartment's appointed designs. These are in your flat's fact sheet – the one you got during key collection. Hopefully, you didn't through your documents away.
Why does the HDB have all these rules?
Windows aren't just windows, after all. Not following the rules above can lead to accidents and severe injury, which nobody wants.
So, it's better to be safe than sorry.
6. Bathroom Works
Having a clean, stylish bathroom can make or break your entire home's design. Besides, the bathroom is where you start and finish your day, so it can dictate your whole mood.
The good news is that a savvy contractor can turn even the tiniest bathroom into an oasis of tranquillity.
The bad news is that HDB has rules.
You can't replace or hack your bathroom's walls and floors for the first three years of your BTO apartment's life. This rule is meant to prevent water leakage – the waterproofing membrane in BTO flats requires three years to stabilise.
Once these three years have passed, you can apply for a permit to change the tiles.
However:
The new flooring finishes mustn't be more than 5 cm thick.
The wall finishes mustn't be more than 2.5 cm thick.
Other restrictions regard installing prominent bathroom fixtures, including:
Shower screens
Long bath
Shower trays
Spa pools
Pro tip: Hire a Public Utilities Board Licensed Plumber to make things easier. They'll advise you on what you can legally change in your HDB bathroom.
7. Water and Sanitary Plumbing
We'll start with the good news:
You don't need an HDB renovation permit to replace or fix a sink.
You just need one if you're changing its location. You also need a permit for intensive plumbing works, which, by the way, can only be done by a plumber licensed by the Public Utilities Board. Here are the other plumbing works requiring a permit:
Installing or changing your toilet
Changing water pipes
Diverting sink waste pipes
Encasing and concealing pipes
8. Gas Works
Gasworks need HDB renovation permits as well. Besides, you must hire a gas service worker licensed by EMA (yes, the Energy Market Authority itself). Here are the gas works requiring the proper documentation:
Encasing gas riser pipes
Relocating gas meters
Removing gas branch pipes
Installing gas water heaters or gas ovens
9. Installing Air Conditioners
Installing air conditioners in your HDB apartment is tricky, as well. You'll need:
A permit
A BCA-trained installer
An installation report plus a form from SP Services to send to HDB
Do note that the air conditioner you get has to follow the electrical loading limits of our block.
HDB Renovation Permit Form: How To Apply?
To apply for an HDB renovation permit, you need to access HDB InfoWeb. Then, you have to choose the "Application for Renovation Permit via Electronic Transaction."
Thanks to the intuitive name, you can find this system easily.
But here's the catch: You must find a registered renovation contractor because you can't submit this application yourself. The law in Singapore is that your contractor must submit this application for you.
And that's actually a blessing in disguise.
As you can see, the form is very detailed and missing any information means starting the application process all over again. But as it is today, you only have to fill in the third and fourth parts of this document.
You need the correct documents, though:
Your scaled floor plans – two copies
Signatures from your apartment's co-owners (e.g., spouse, parents, etc.)
Link to apply for your HDB renovation permit.
How Long Does it Take for HDB to Approve the Permit?
The HDB approval process can be a bit of a mystery, but thankfully it doesn't take too long – usually three weeks or less if you're not doing anything too "crazy," like wall hacking or reconfiguring toilets or sinks. The first step is to submit your application, as we explained in the previous section.
Once that's done, HDB will assess your application and may contact you for additional information if needed. If everything looks good, they'll issue the permit, and you'll be ready to start your renovation project!
Just remember to stick to the deadlines:
Three months for new HDB flat
One month for resale apartments
When Can You Do the Renovations?
Are you looking to spruce up your home but not sure when you can start renovations?
Don't worry; we've got you covered. According to HDB regulations, renovation work is only allowed from Monday to Saturday, between 9 am and 6 pm. So if you're planning on making significant changes to your home, you'll need to do it during the week.
And if you're hoping to avoid complaints, ensure all noisy work is finished before 5 pm on weekdays. "Noisy" work includes:
Persisting, loud drilling
Demolishing walls
Removing floor finishes
This type of work is also prohibited on:
Weekends (Saturdays included)
Public Holidays
Eves of Public holidays
Remember: There's no renovating allowed on Sundays or public holidays, so you'll just have to enjoy your time off instead. But with a bit of planning, you can quickly transform your home into the perfect space for you and your family.
HDB Renovation Permits FAQ
Have more questions regarding the HDB renovation permit? Browse the section below, and you'll find the correct answer:
How Do I Find an HDB-approved contractor?
The HDB boasts a practical list of its approved contractors.
Warning: These professionals are not HDB-hired, so HDB doesn't have access to the contracts. If you have any legal disputes, the HDB won't be able to mediate. Instead, you'll have to appeal to:
How Do I Check My HDB Renovation Permit?
Checking the status of HDB renovation permits has never been easier:
Log in to My HDB Page.
Go to My Flat.
Choose "Purchased Flat."
Click on "Renovation."
Can I Use CPF for Renovation?
Unfortunately, you can't use your CPF for renovations.
Yes, we all hope that we can use our CPF for home renovations but as of now, we are unable to do so.
Getting A Renovation Loan for Your HDB
To have enough money for your home renovation, you will need to get a renovation loan from a bank or a financial institution like Lending Bee.
Banks do offer homeowners renovations at affordable interest rates. However, the catch is that you can only borrow a mximum of $30,000. That's barely enough for a 3-room HDB flat!
To cover the remaining or for the entire cost of your home renovation, you can apply for a renovation loan from Lending Bee. As one of the leading lenders in Singapore, Lending Bee offers fast approval renovation loans with great flexibility. Best of all, we have a much higher borrowing limit!
Break free from restrictions! Get your quote here.
About Lending Bee
In a volatile, uncertain, complex and ambiguous world, you can count on one thing – your partner in credit, Lending Bee. Just like an industrious bee, we are committed to helping each and every customer access credit – quickly, easily and seamlessly.